September 20, 2021 - 7:00 8:00 pm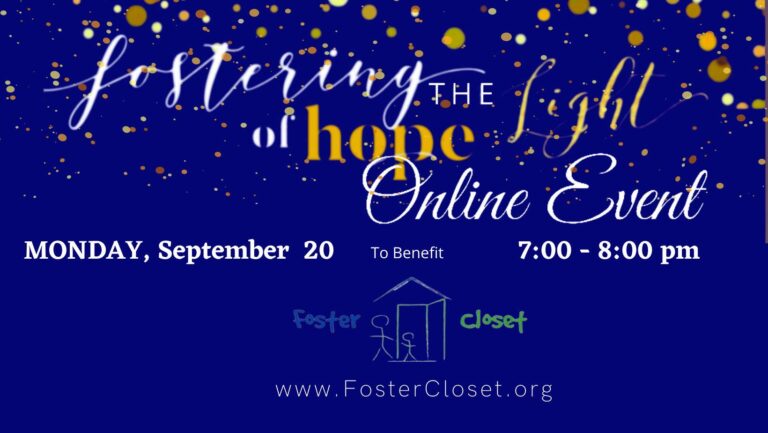 Fundraiser featuring heartfelt videos, from Foster Closet's children & families we have served, as well as, volunteers and donors who are making a strong impact to support the foster care community through our organization.
On Monday September 20, from 7:00-8:00, Foster Closet will host its 10th annual fundraiser, and our first ONLINE Facebook Live Event.
This year will be our second   "Fostering the Light of Hope."  
The evening will include heart felt videos featuring local foster and adoptive families and some of the children to whom we serve at Foster Closet.
This new event will serve as our primary fundraiser to help secure the funding needed to cover annual costs.
ANY Amount will help our cause as we support
the foster care system in Northeast FL
Foster Closet is a 501(c)3 nonprofit organization funded solely by the generosity of donations. 
Title Sponsor (10,000)
Video, Logo and Name Recognition as "title" sponsor throughout the entire event.
Share with our viewers the night of the event the business name and sponsor title level
A loop of their name and Company logo* and name recognition on the bottom of the event.
Website recognition on gala information page, and Donor Page.
Platinum Sponsor (5,000)
Company logo* and Business name recognition for the event  at the bottom of the screen.
Logo and Business name recognition on Foster Closet's website.
Gold Sponsor (2,500)
Company logo recognition on Website.
Logo* and name recognition on the screen at event at the beginning and end of event. 
Silver Sponsor (1,250)
Company logo* and name recognition in beginning and of the online event.
Bronze Sponsor (500)
Company logo* and/or name recognition at the beginning of the event and on our website.