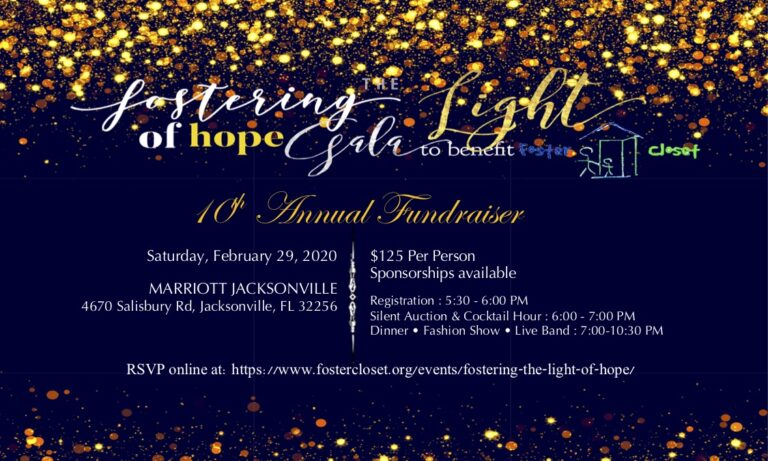 Fundraiser featuring fashion show, silent auction, paddle raise, dancing, and music
On Saturday, February 29. 2020, Foster Closet will host its 9th annual fundraiser, at the Jacksonville Marriott. This year will be our first Gala entitled "Fostering the Light of Hope."  Plans for the evening include a fashion show featuring local foster children (modeling clothes received from Foster Closet), a silent auction, a plated dinner, a paddle raise, and ending with dancing & music by the band "Who Rescued Who."  This new event will serve as our primary fundraiser to help secure the funding needed to cover annual costs. 
Individual Tickets
Individual tickets are available for $125/person
Donating Items
Donated items for the silent auction are greatly appreciated
Foster Closet is a 501(c)3 nonprofit organization funded solely by the generosity of donations. 
Title Sponsor (10,000)
Recognition as "title" sponsor on all signage for event
Includes a front table (10 tickets) for the event
Company logo* and name recognition in our program
Logo* and name recognition on the screen at event and Gala signage
Web site recognition on gala information page, ticketing page, and event recap page
Opportunity to escort one of the foster children models onstage at the Gala
Platinum Sponsor (5,000)
Includes 6 tickets to the event.
Company logo* and name recognition in our program and Gala signage
Logo* and name recognition on the screen at event
Opportunity to escort one of the foster children models onstage at the Gala
Gold Sponsor (2,500)
Includes 4 tickets to the event.
Company logo* and name recognition in our program and Gala signage
Logo* and name recognition on the screen at event
Silver Sponsor (1,250)
Includes 2 tickets to the event.
Company logo* and name recognition in our program and Gala signage
Logo* and name recognition on the screen at event
Bronze Sponsor (500)
Company logo* and/or name recognition in our program and Gala signage
Event/Donation Registration