Email for our needs
info@fostercloset.org - we will reply soon.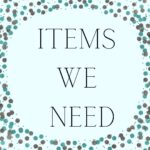 Thank you for understanding that we are on HOLD at this time, due to the amount of response we have had.  Please check back after 12/12/22 for an updated winter list.
When dropping off your items at your scheduled appointment, please mark the outside of the bag:
Clothing – Size and Gender
Toys – Must have all parts
Sheets – Size Bed
NOT TAKING FLIP FLOPS OR SANDALS AT THIS TIME. 
Please remember our no stain policy: If we can't get it out with a Tide Stick, we do not accept.
No used underwear or socks
No mommy / daddy / grandma … etc.
No churches, schools, destinations or company logos.
No smoke or musty smells
No stuffed animals
No Rips, Stains, Tears, or Fading
Crib and Car Seat
Requirements
Not taking CRIBS at this time: Less than 3 years old, with no recalls
NOT TAKING CAR SEATS at this time:  Infant & 5 PT Harness Car seats (less than 5 years old and no recalls)
All must have original manufacturer labels and instructions. If you can, please take the time to print off the instructions for your item from manufacturer's website.
*Cribs are usually considered a drop off item.