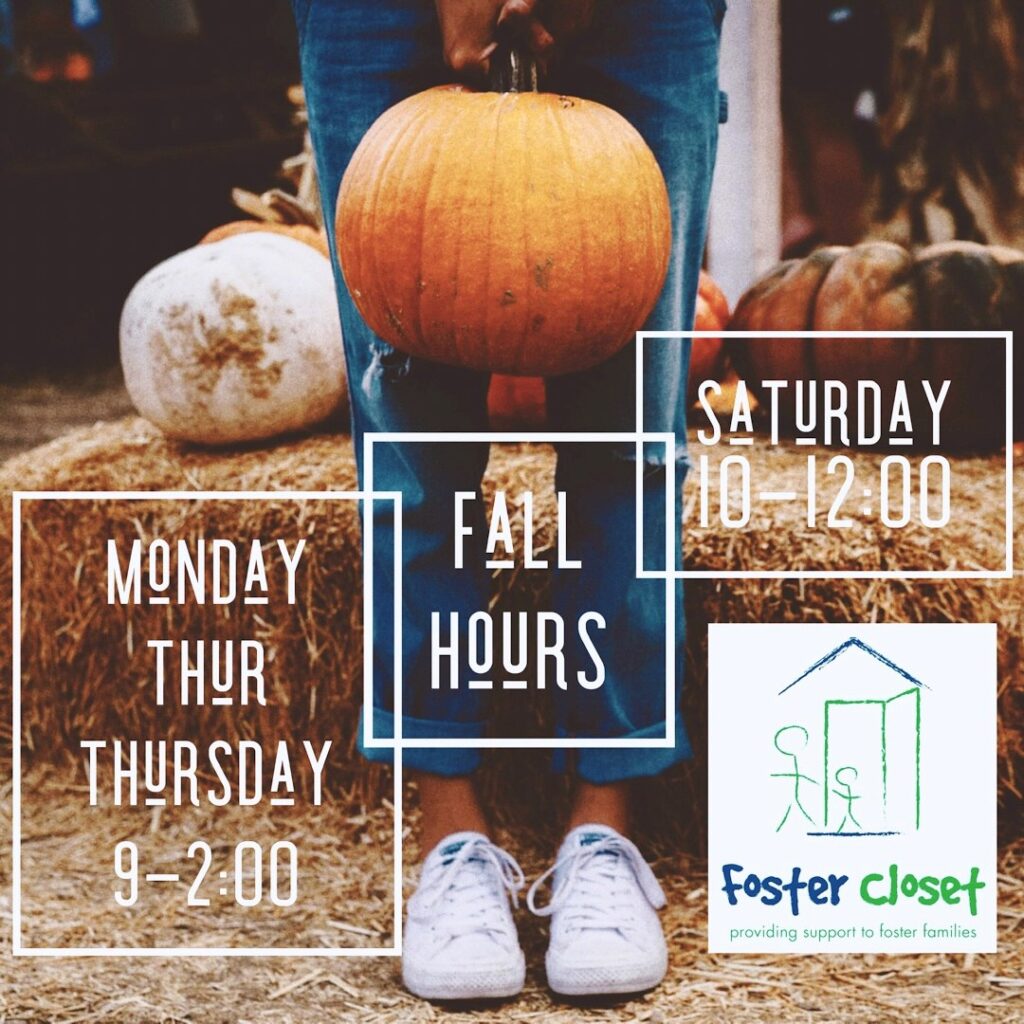 Due to the recent events, we have had to cut back our hours.
We are not open to the public.
Foster Closet will not be able to have unscheduled drop off due recent events.      
Our Volunteers have chosen to stay home to take care of their families.     
UNLESS you have any of our URGENT Items listed (Look Often, since our needs change weekly) below in the RED.
 If you Do have our Urgent Needs listed below here are the                               
                                                          SCROLL FOR INSTRUCTIONS BELOW:   
Email info@fostercloset.org or
Call During our hours: 904-629-2116 or our after hours (Calendar) number 888-681-1118 and leave a message. *  OR  
*We are still in desperate need of your help. You can also Look at our Amazon List. *Please have Amazon ship the items to your home and schedule a drop-off delivery with Foster Closet via email: *info@fostercloset.org.
                                                                    THANK YOU                                                                                                       Scroll below for more helpful drop-off instructions.
  Please remember our no stain policy: If we can't get it out with a Tide Stick, we do not accept. No used underwear or socks No writing - mommy / daddy / grandma ... etc. No writing - churches, schools, destinations or company logos. No smoke or musty smells No stuffed animals No Rips, Stains, Tears, or Fading
 Remember our founder's Moto:
"Our kids have stains on the inside, they don't need to wear them on the outside" 
"We are like a high end consignment shop without the price."
Check this page often, our needs changing weekly.
Check our Calendar Page for Hours
We ask that donations have a general  Label on each bag or box, to show to our volunteers, what is inside each bag or box.
Ex: BOYS SUMMER- sz 8.
* You will need to schedule an appointment via email by emailing info@fostercloset.org.
Thank you for helping over 50 children coming into care each month in our community.
UPDATED ON SEPTEMBER 21, 2021
---
SUMMER PJS –
TODDLER
Girls – Sizes 24 months  and Up to 4T
CHILDREN'S SIZES 5-18
And ADULT Sizes Small to Large 
UNDERWEAR FOR ALL SIZES NEEDED – SEE BELOW
INFANT
BOYS
Premie Onesie with legs/ 0-3 months bottoms only.

SWIM TRUNKS – Sizes 0-3, 9 Months, & 24 months 
GIRLS

Premee Oncies,  / 9 months
SWIM SUITS – 0-3, 3-6 & 3T
OUT of PULL UPS  * Diapers Size 4 & 2T/3T & WIPES !!
TODDLERS Tops and Bottoms

BOYS CLOTHING  
2T – 5T OUTFITS!!

SWIM TRUNKS – 2T – 5T
BOYS SHOES – 6,7,8,9,12 
NEW TODDLER SOCKS

OUT of Shoes Sizes 5 & 13
______________________
GIRLS CLOTHING
24 months, 2T BOTTOMS only please, 3T  , 4T & 5T Outfits
OUT OF ALL TODDLERS GIRL SWIM (4T/5T MOSTLY)
NEW TODDLER SOCKS

GIRLS SHOES – OUT of 8,9 of 10, 11, & 13

BABY EQUIPMENT
OUT OF BOOSTER Care Seats / Stollers (double front-to-back/single/triple) – CRIBS (look at our requirement on this page) – Crib Mattresses & Highchairs *look below for more
Children's Sizes 
GIRLS
TOPS SHORT SLEEVE & BOTTOMS –  OUT OF 12
XL SWIM SUITS
NEW SOCKS

Shoes–
OUT OF

Tennis Size 1 & 4

NEW SOCKS

Shoes size 1-6
OUT OF SIZE 1
(These are children's sizes not Toddler)
TEEN JR Men Sizes
  30-42 JEANS/SHORTS/GYM SHORTS & joggers 
(Gym shorts always needed)
MEN'S SHOES -7 & UP (OUT OF SIZE 7)
NO DRESS SHOES PLEASE
NEW BOXERS / BOXER BRIEFS

TEEN JR Women

12, 14, 18
(Appropriate Length Shorts and Skinny Jeans)
TEEN GIRL SHOES – 9 & Up
NEW UNDERWEAR – (Boy Shorts & Bikini)

BOARD BOOKS & BIBLES
Video Systems – handheld or consoles, Games (OUT OF PS4)
Tabets / Laptops / Ipads 
Toys – ALL Ages!  
(We are asking for every toy to have ALL of its pieces – we have no one to go through all the parts and put them on shelves)
HYGIENE PRODUCTS

NEW –
Full Size Shampoos (no conditioners at this time)

Deodorant for both men and women

Body Wash (for Teens and Toddlers and Babies)

,

Tooth Paste for Toddlers/Children

and Teens

Unused Make-up, Cosmetic Bags

Feminine Products 

Baby Shampoos and Wash

Hair Brushes

 & Combs for ALL ages!
(Check this page often, due to our needs changing weekly.)
We are grateful to our donors. Because of your generosity, we are able to clothe the children we serve for free, and with dignity. Because our list might have changed, please look often. Keep in mind we have approximately 50-100 bags donated each a week and we are hoping you check out our list below and help our volunteers.
You keep us active in our community and for that we value your time as you sort through your donations and pray for our children prior to coming.
Please call before coming. Check our hours and availability at our calendar page.
I

f you

have donations to drop off, find your gender and size below to see if we are in need.
Don't forget to check out our Always Need List!
We only take same season items.
AT OUR NEW LOCATION – GO BEHIND THE BUILDING TO OUR DROP OFF DOOR AND PRESS THE DOORBELL.  WE WILL ASSIST YOU WITH ALL YOUR DONATIONS.
please let us know if you are in need of a receipt

Please do Not leave your items at our location. Due to weather, animals / insects and people going through the bags and putting trash inside the bags, we through away all bags left outside our building.
* ALWAYS NEW UNDERWEAR ONLY *
       *WOMEN – OUT – SM (5/6)-XL = NEW (BOY SHORTS OR BIKINI'S UNDERWEAR)
     *MEN – NEW BOXERS ONLY – SM-MED-LG-XLG- XXL (NO BRIEFS) – MEN'S SMALL –         XXL PJS (BASKETBALL SHORTS AND UNDERSHIRTS)
OUT OF COMBS AND BRUSHES, FULL SIZES BODY WASH (CHILDREN'S AND ADULT SIZES) & WOMAN'S PERSONAL CARE PRODUCTS
ALWAYS IN NEED OF NEW Casual Socks, Men, Women, Boy & Girl & Toddler
EQUIPMENT NEEDED ALWAYS
Double Strollers (Side-by-Side & Front-to-Back)

Single Strollers 

Table Booster Seats

Small floor Swings

&

CRIBS

(see our requirements in Green box on this page)
ALWAYS IN NEED
DVDs Infant

Diapers

(Premie & NewBorn & size 4)

PULLUPS

Always asking for NEW Toys at this time: Infancy and up to teens

ANY Video Systems &  Games ( Switch Games)

Pre-School Puzzles – 250 pieces
Baby Equipment

Cribs 

5 PT Harness Car Seats

& Boosters with or without Backs / Not taking at this time Infant Carseats at this time .(September 2021)
BIBS, BURP CLOTHES

 (infant sizes)

Sippy Cups – New 
email info@fostercloset.org if you have any questions
*Please check below the requirements needed to donate Car Seats and Cribs.
Sports Equipment
Sports Balls, bats, baseball gloves, skateboards, scooters
ramps, bikes (but not at this time) hula hoops, etc.
Toothbrushes:  Adult and Child Sizes and

Toddler/Infant toothpaste
Please check your items (listed above) before coming
                                  Pathway Needs (Young Adults aging out of foster  care)                
   Please remember our no stain policy: If we can't          get it out with a Tide Stick, we do not accept.
No used underwear or socks
No writing – mommy / daddy / grandma … etc.
No writing – churches, schools, destinations or company logos.
No smoke or musty smells
No stuffed animals
No Rips, Stains, Tears, or Fading
CRIBS: Less than 4 years old, with no recalls
Although we are not taking any Infant CAR SEATS at this time (9/1/2021) here are our requirements for the our future needs –  Infant  &  5 PT Harness Car seats (less than 5 years old and no recalls)
All must have original manufacturer labels.
*Cribs are usually considered a drop off item. And must be disassembled with their instructions and all their parts.