---
       

Back to School

  Needs
Email for our needs  info@fostercloset.org – we will reply soon.
Here is a short list of items we are taking at this time. We will have the larger list up soon.
Thanks for wanting to donate to Foster Closet. We are only able to take the times listed below in red. 
Please Look at the items below. We are only taking the items posted.
Please look at our Current Calendar to see our Fall Hours. Our hours are subject to change. You will need a schedule drop off appointment: Please email info@fostercloset.org           
When dropping off your items at your scheduled appointment, please mark the outside of the bag. EXAMPLE- Boys 8-10 Shirts
4TClothing – Size and Gender
Toys – Must have all parts
Sheets – Size Bed
We Don't Take
Please remember our no stain policy: If we can't get it out with a Tide Stick, we do not accept.
No used underwear or socks
No mommy / daddy / grandma … etc.
No churches, schools, destinations or company logos.
No smoke or musty smells
No stuffed animals
No Rips, Stains, Tears, or Fading
Not taking Crib and Car Seats & Cribs at this time.
UPDATED ON Tuesday, September was 20, 2022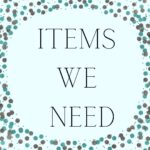 INFANT & TODDLER CLOTHING
Girls: Premee/NB/9mon Bottoms – 12, 4T, 5T  Shoes: 10, 11,12,13
Boys:   18 months, 2T,  3T, 4T, 5T               Shoes: 7,8,10,11,12,13
GIRL'S CLOTHING
ANY Size Plain Uniform Shirts – RED, NAVY, WHITE
 TOPS only : 5, 12, 14, 16 ONLY / BOTTOMS only: 5, 12, 14, 16
SHOES SIZES: 1-5
BOY'S CLOTHING
ANY Plain Uniform Shirts – RED, NAVY, WHITE
BOTTOMS – 5, 6 (jeans) 
SHOE SIZES: 1 , 2
TEEN GIRL CLOTHING
T-Shirts: XXL-XXXL
BOTTOMS only: 16- 32      (Shorts & Jeans)
JEWELRY & SPORTS BRAS
TEEN BOY CLOTHING
ANY Plain POLO Uniform Shirts – RED, NAVY, WHITE
BOTTOMS only – Jeans & Shorts: 36,38,40
---
URGENT  Equipment Needs: NO Single Strollers please at this time.
BABY: We are still in need of Swings, Bouncers, Double Strollers at this time. KIDS BIKES: Boys and Girls 12inch / Girls 16-18/ Boys and Girls 24-26
Please check out our Items We Always Need : Items Needed Page – ALWAYS Needed
Girls 4T/5T Pull Ups & Wipes are are always welcomed.