Contact Form:  for more information about Foster Closet   
*Wanting to Grant a Christmas Wish for a Child in foster care.*Donating Furniture donations for our Pathway Teens (teens aging out of foster care)
*Wanting to learn how to Support or Volunteer.
*Wanting to join our FC Cake Club or Birthday Club?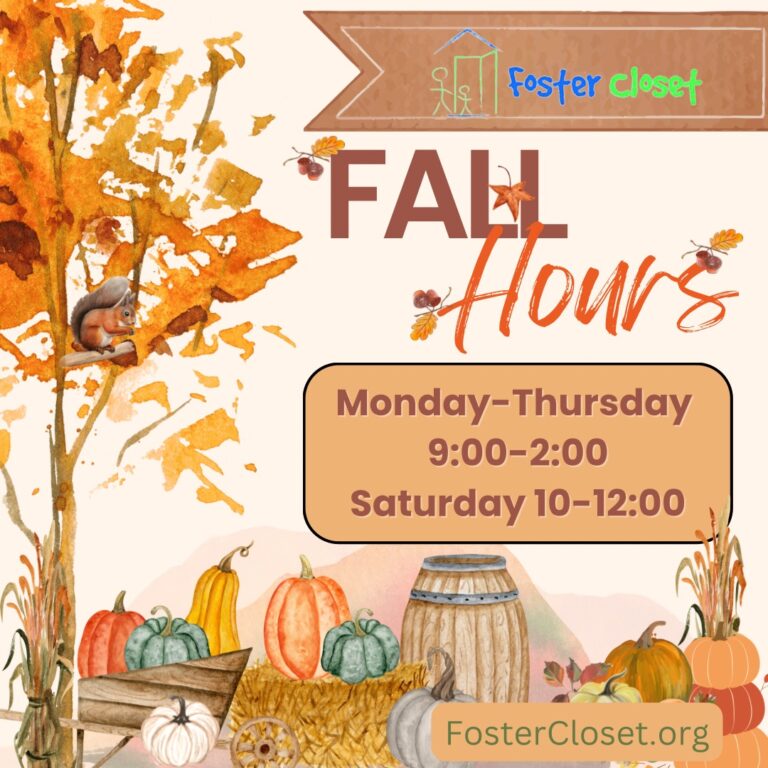 SUMMER HOURS (subject to change): 
Phone: 904.629.2116
Monday – Thursday:  
9:00 a.m .- 2:00 p.m.
(by appointment only for caregivers)
Sundays & Fridays:   CLOSED
Saturdays:  10:00-12:00 
* Subject to change during holidays – please check individual dates for times. 
(email [email protected] to let us know if you are wanting to schedule a drop off for your donated items from our current Items Needed Page)
* Caregivers needing date and times for your appointments 
* Donors please email ahead to let us know when and what you are willing to donate. 
Please look at our Items Needed Page before coming. Thank You.