If you are willing to Grant A Christmas Wish for a child in foster care, please fill out the form below and we will email soon with the link to our hours of operation.  And how to drop off the new unwrapped Christmas Wish to Foster Closet, prior to Monday, November 30, 2020. To see all the wishes: GrantAWish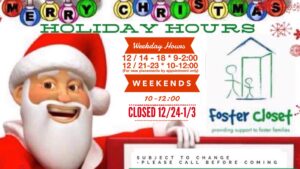 Phone: 904.629.2116
Monday – Thursday:  
9:00 a.m .- 2:00 p.m.
(by appointment only for caregivers)
Sundays & Fridays:   CLOSED
Saturdays:  10:00-12:00 
* Subject to change during holidays – please check individual dates for times. 
(email info@fostercloset.org to let us know if you are wanting to schedule a drop off for your donated items from our Items Needed Page)
* Caregivers needing date and times for your appointments 
* Donors please email ahead to let us know when and what you are willing to donate. 
Please look at our Items Needed Page before coming. Thank You.